The Church Hall, named after our beloved pastor of many years, Msgr. Fenton Runge is located on the split-level beneath the church nave.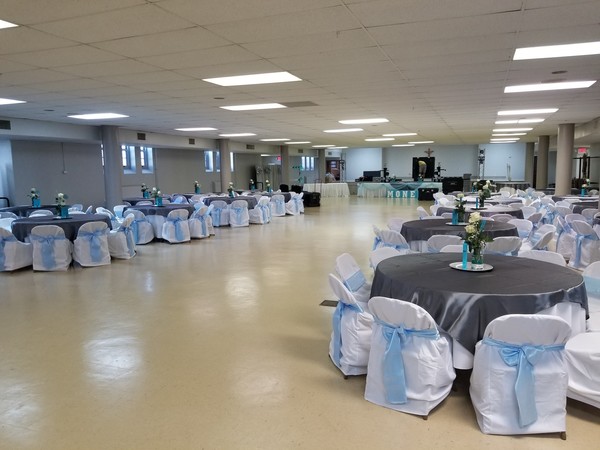 Runge Hall can be accessed easily from West Ripa Avenue and also from the church and the parking lot. It is suitable for intimate or large gatherings, up to 350 people. With our kitchen and bar area, The Hall is a great option.
The use of the parish hall is limited to St. Martin of Tours parishioners and is meant for events that mark milestones in their Catholic faith journey: Baptisms, Quinceañeras, Baby Showers, Holiday Gatherings, Trivia Nights to support our families in times of need, and Funeral Luncheons.
For a parishioner (defined as one who has been a member for at least one year before the event planned), the charge for the use of the Hall, kitchen, and bar area is as follows: follows: For 3 hours, the charge is $150. A $100 deposit is required. For 5 hours, the charge is $300. A $250 deposit is required.
If you wish to set up the Hall before your event, you must do so on a weekday sometime between 9:30 a.m. and 4:30 p.m.
At your event, you are free to bring in your own caterer, bartender, and musicians. You are also free to decorate the hall as you wish, within reason. Since you will be paying for the event, our staff is responsible for clean-up.
You may arrange for a tour of the hall by calling the parish office at (314) 544-5664.
Contact the Parish Office for all the details:
Our Address
610 West Ripa Ave.
St. Louis, MO 63125

Phone:  314-544-5664
Fax:  314-631-3118
Email:  patriciasmt@yahoo.com